Top-Notch Awning Windows in Hauppauge NY
High-Quality Awning Window Replacement
Discover the elegance and practicality of awning windows, a top choice for homeowners in Hauppauge, NY. Our awning windows are designed with a unique top-hinged system, allowing them to open outward from the bottom. This design ensures continuous airflow while providing protection from the rain. Crafted with high-quality materials, these windows offer a perfect blend of durability and aesthetic appeal, enhancing the look of your home.
The benefits of choosing our awning windows are plentiful. Firstly, they provide excellent ventilation, keeping your living space fresh and airy. Secondly, their unique design makes them ideal for providing privacy while letting in natural light. Lastly, they are exceptionally user-friendly, with easy-to-operate mechanisms making them suitable for various spaces, including hard-to-reach areas.
When considering awning windows for your home, it's important to note their adaptable sizing. Our team can assist in selecting the right dimensions to fit the specific needs of your space. Whether you're looking to install them in a compact area or as part of a larger window configuration, we ensure a seamless fit and finish.
Maintaining these awning windows is straightforward. Regular cleaning with a mild soap and water solution will keep them looking new. It's important to check the hinges and seals periodically to ensure they remain in optimal working condition. With proper care, our awning windows will continue to be a beautiful and functional feature of your home for years to come.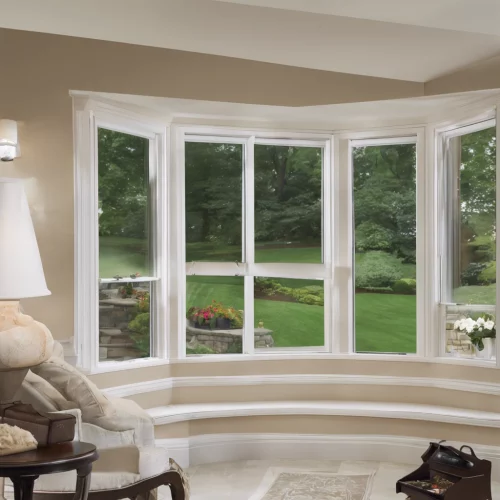 The Ultimate Guide to Selecting Materials for Your Awning Windows in Hauppauge
Welcome to Hauppauge Window Installation, where we specialize in providing top-notch awning window solutions. Selecting the right material for your awning windows is crucial for both aesthetics and functionality. This comprehensive guide is designed to help you navigate through the various materials available for awning windows, ensuring you make the best choice for your home in Hauppauge, NY.
The Importance of Material Selection in Awning Windows
The material of your awning windows plays a pivotal role in defining their durability, maintenance, energy efficiency, and overall appearance. Understanding the characteristics of each material can significantly influence your satisfaction with the final installation.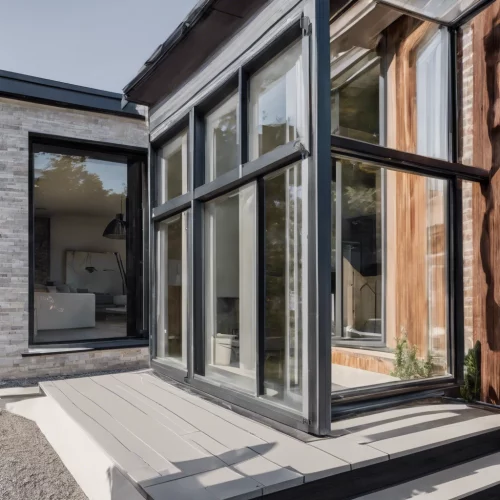 Vinyl Awning Windows: Affordable and Low Maintenance
Vinyl is a popular choice for awning windows due to its cost-effectiveness and low maintenance requirements. Vinyl windows are known for their excellent insulation properties, which can help reduce your energy bills. They resist moisture and do not require painting or staining, making them a practical choice for many homeowners.

Aluminum Awning Windows: Sleek and Durable
Aluminum awning windows are celebrated for their durability and sleek, modern appearance. This material is inherently strong, allowing for thinner frames and more glass area. Aluminum is also resistant to corrosion and weathering, making it ideal for the varying climates of Hauppauge, NY. However, it's worth noting that aluminum is less efficient in terms of insulation compared to other materials.
Wood Awning Windows: Timeless Elegance
Wood has been a classic choice for window frames for centuries, offering unmatched natural beauty and charm. Wood frames provide excellent natural insulation and can be customized with stains and paints to match your home's decor. However, they do require more maintenance than vinyl or aluminum, including regular painting or staining to prevent weathering and decay.
Fiberglass Awning Windows: Strength and Versatility
Fiberglass is a robust material that offers the strength and insulative properties of wood, but with significantly less maintenance. It can withstand extreme weather conditions and is less prone to warping or cracking. Fiberglass frames can also be designed to mimic the look of wood, providing a versatile option for homeowners.
Composite Awning Windows: The Best of Both Worlds
Composite materials combine the benefits of wood and vinyl, offering durability and low maintenance. These windows resist rotting, warping, and fading, and can be an excellent choice for those seeking a balance between aesthetics and functionality.
Clad-Wood Awning Windows: Beauty Meets Durability
Clad-wood windows offer the beauty of wood on the interior with a protective exterior cladding of aluminum or vinyl. This combination provides the classic appearance of wood inside your home while protecting the exterior from the elements, reducing maintenance requirements.
At Hauppauge Window Installation, we understand that choosing the right material for your awning windows is a significant decision. Our expert team is dedicated to helping you find the perfect match for your home's style and your personal preferences. Get in touch today to explore our wide range of high-quality awning window options and take the first step towards enhancing your home in Hauppauge, NY.
Claim your FREE In-Home Estimate Today!